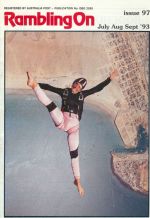 This is my first Cover shot from the summer of 93. I met Tamara Koyn during the Eloy Easter Boogie and took her down to the Rocky Point Boogie that Skydive Arizona puts on. I was such a rookie cameraman and could barely keep up with her. At least when she layed out flat on her back I could fall with her long enough to snap this shot. The Rambling on magazine from Australia loved it. She is was very popular at the time down there from many seminar trips. Tamara bought the rights to this photo for making 'promo' photos and it recently was published (spring 2000) in an Australian in-flight magazine along with a different aerial I had from her 10th year of freestyle celebration photos that we shot.

---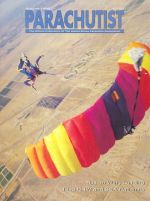 This is my favorite cover shot. Greg Gasson is my best friend and we shot at least two rolls of film of him flying closer and closer and closer (til we were scared!!) Greg had just gotten this canopy and was getting used to what a Stiletto 97 would do. I shot this with a 28mm lens and you can see that the pilot chute is pretty blurred and close! I'm so glad he didn't hang his center cell over my head while he hooked in front of me... :) This is not for the faint of heart (or those without a hook knife).

---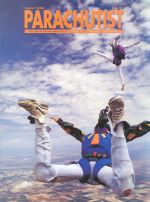 This was a fun cover to shoot. I didn't have a vertical still mount, yet I wanted to shoot a vertical to make use of the full frame for this shot. I borrowed a protec camera helmet with rotatable still mount and found that the camera was in the way of my eye and I could only see past the camera to the right of the picture frame area along the vertical L-bracket. So, I taped a small piece of plastic on the L-Bracket to indicate the vertical center of the frame. Then, while in the air, I'd look to the left (so I could see) til I saw a shot I wanted to take and then I'd straighten the helmet out so my vision was blocked and click a couple photos. This is what we came down with after 3 rolls. I call it "Dog and Butterfly" in honor of Greg's grunge look.

---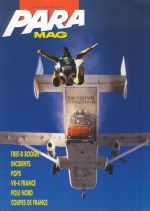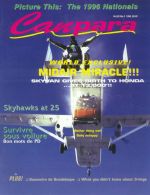 These covers are from the junk day happenings at Skydive Arizona. The French, Italian, and Canadian magazines all used this for their covers. Joe Jennings and Greg were working together on some chuteless jump film footage and Greg introduced me to Joe. This was the beginning of a great collaberation. While Greg was in most of the cars, I would shoot 2nd camera for Joe with his 3-chip Sony and shoot stills. I think I have the most stills of cars in freefall of anyone on the planet. These jumps always give me "first-jump" adrenaline! There's nothing like staring down the barrel of a Skyvan loaded with a car!

---
While this is another junk day item, it is especially noteworthy to me since No Limits is not a skydiving magazine. This European Thrill magazine is my first and only non-skydiving publication cover shot. In this shot, Olav Zipser had sat up on the edge of the car as it bobbled through 7000 feet (the planned exit altitude.) He tipped out of the left rear seat over the fender as the car teetered tail low. This amplified the forward oscillation and pitched Omar Alhegelan, Joe Aylward, and skydriver Greg Gasson out across my field of view for an unforgettable "exit" shot. This picture also appeared across 2 pages of the German "Autobild" magazine as well as in postcards at the Square Two gear store.

---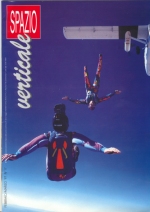 Here is yet another picture of Greg Gasson. This time he is filming Dale Stuart, his two time world champion teammate in women's freestyle competition. I have many photographs of the two of them and even got to video them live for Fox After Breakfast (where the daily guest, the Queen of Soul, Aretha Franklin, seemed unimpressed from the Fox Studio. Those lunatic skydivers, ya know.) I loaned Dale quite a few original slides to use for promotions and she got a shot on the cover of Spazio Verticale (the Italian skydiving magazine) and also on the cover of the Fallschirm 1998 calendar. Thanks Dale!
---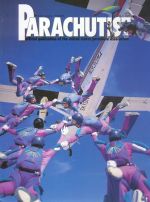 I love this photo. Getting to push off of the plane between Alan Metni and Steve Nowak of Airspeed was so much fun. I pushed off slightly early and would catch some cool shots of them coming off the plane. In this shot I actually came off a little bit late but this worked out great as I filled the entire frame of a vertically mounted Pentax 645 still camera with Airspeed's flawless exit. Parachutist ate this up and so did many Skydive Arizona visitors as the gear store has sold hundreds of these on postcards.

---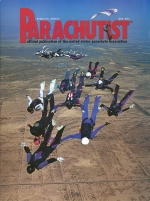 This photo was taken during the 2000 Arizona Challenge. They did about 5 points on this dive, all piece turns of the 9 way diamonds. It just so happened that this diamond was the most aggressive and perfectly exposed their backs to the sun behind me. It's actually a vertically cropped horizontal shot, but it still printed beautifully on the cover.
---